TUCSON WRONGFUL DEATH LAWYERS
TUCSON WRONGFUL DEATH ATTORNEYS
RESPECTING THE MEMORY OF YOUR LOVED ONE
Losing a loved one in an accident is emotionally devastating. It is only right to expect the negligent party that caused the accident to be held responsible for its aftermath. However, starting a wrongful death claim or a lawsuit is never easy. It requires legal knowledge and the tenacity to pursue a claim in such a troubling time.
Miller Kory Rowe is proud to offer our legal services and support to locals who have lost a loved one and now need help figuring out what to do next. Our Tucson wrongful death lawyers have a long history of taking challenging cases and finding a way to make things right for our clients. Your late loved one's name deserves to be honored and respected, and that means securing justice in their name by winning a wrongful death claim. Let us see just how much we can do for your family by scheduling a free consultation today.
A death is "wrongful" under the definition of the law if it was caused entirely or partially by the negligence, recklessness, or intentional wrongdoing of a third party. If someone passes away and the death is considered wrongful, then the person's loved ones might have a chance to seek justice and compensation by filing a wrongful death claim.
One way to think about a wrongful death case is to consider it like a personal injury claim. If the situation would have allowed a personal injury claim had the victim survived, then it likely allows for a wrongful death claim because they did not.
WHAT ARE SOME COMMON CAUSES OF WRONGFUL DEATH?
Common causes of wrongful death claims include:
Workplace accidents
Defective products
Medical malpractice
WHO CAN FILE A WRONGFUL DEATH CLAIM IN TUCSON?
In Arizona, only the deceased person's spouse, child, or parent can file a wrongful death claim. If none of those parties want to begin one, then the executor or personal representative of the deceased person's estate can get the right to file.
WHAT COMPENSATION CAN I RECOVER IN A WRONGFUL DEATH CLAIM?
In Arizona, a wrongful death lawsuit is used to secure compensation for the losses experienced by the deceased person's family member. The losses can be related to economic losses and non-economic, based on what the family members have suffered.
Wrongful death claims can seek compensation for:
Medical treatment costs
Loss of companionship
Loss of guidance
Emotional trauma
WHAT IS A SURVIVAL ACTION?
A survival action is technically separate from a wrongful death claim in Arizona. Survival actions are used to seek compensation based on the deceased person's financial losses. For example, a survival action can demand compensation for any medical costs incurred by the deceased person's estate, as well as the value of income that they would have likely earned in life had the fatal accident never occurred.
HOW MILLER KORY ROWE CAN HELP WITH YOUR TUCSON WRONGFUL DEATH CASE
Our Tucson wrongful death attorneys can help you with both elements of a wrongful death case: wrongful death claims and survival actions. We know that money can't undo what happened and will never fill the gap that the loss of a loved one has caused. However, we also know that compensation can help you regain financial stability, focus on the grieving process, and find a sense of justice or closure. For this reason, we commit ourselves to secure every penny possible for you and in the name of your loved one.
SPEAK TO OUR TEAM TODAY – CALL NOW
Please call (602) 648-4045 to speak with a Tucson wrongful death attorney from Miller Kory Rowe about what happened. It would be our honor to represent your family during this difficult time. Let us handle the complex and often frustrating nature of the claim or lawsuit while you focus on taking care of yourself. 
TUCSON WRONGFUL DEATH LAWYERS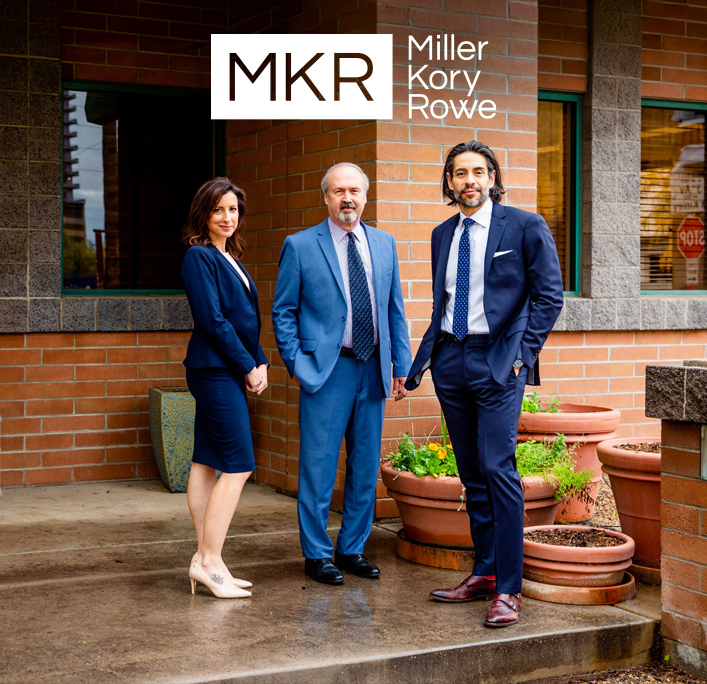 HANDLED WITH PROFESSIONALISM,
PRIDE AND RESPECT
"We researched a few law offices that would handled a delicate case in behalf of our beloved mother. From our initial meeting to the final, the experience was handled with professionalism, pride and respectful. We couldn't have gone to a better law firm to handle our case. I highly recommend this law firm for any of your love ones with a wrongful death. We can now bring closure to the care center in this case, however, closure in loosing my mother in such matter will take time for healing. Thanks to Jeff, Gab, Lorraine, Lupe, and the rest of the staff for caring."
YOU WON'T FIND A BETTER LAW FIRM!
"You won't find a better law firm! I have known Kory for more than 20 years and his dedication and work ethic are second to none."
DEDICATED ADVOCATE FOR HIS CLIENTS
"He is an excellent lawyer and a dedicated advocate for his clients. He has the highest degree of fairness and integrity towards clients, colleagues, and opposing counsel."
IT IS A VERY PRESTIGIOUS OFFICE
"It is a very prestigious office not only for the quality of the work but for the humility of each one of its attorneys, that their passion is to serve every one of their clients as a family member. The office in general does everything that is in their hands to assist in the best way possible every single individual that comes in through the doors of Miller Kory Rowe LLP."
HIGHLY RECOMMENDED FROM THEIR PEERS
"I was referred to Miller Kory Rowe LLP after the sudden loss of my Mom. It says a lot when you are refereed to a different Lawyer because they are so highly recommended from their peers. It was great comfort to have Gabe and his Team of spectacular people with support and going to extra mile for my Brother and I in such a stressful time in our lives. No matter what complications that happen with our case they did an amazing job. The case settled out of court in our favor which meant the World to me vs. the pain of a trial."
DO I HAVE A CASE?
TALK TO OUR ATTORNEYS NOW