PHOENIX BEDSORES ATTORNEY
FILING A CLAIM FOR BEDSORES IN ARIZONA?
At Miller Kory Rowe, we understand the importance of providing proper care and attention to nursing home residents. Unfortunately, not all nursing homes prioritize the well-being of their residents, leading to neglect and abuse. One common issue that arises in nursing homes is the development of bedsores.
Bed sores, also known as pressure ulcers or decubitus ulcers, are areas of damaged skin and underlying tissues caused by prolonged pressure, friction, or shear forces on the skin. They typically develop in individuals who are immobile or have limited mobility and spend extended periods of time in bed or sitting in a chair.
Bed sores commonly occur in bony areas of the body where the skin is in direct contact with a surface, such as the back, hips, heels, and elbows. The constant pressure on these areas reduces blood flow to the skin and underlying tissues, leading to tissue damage and the formation of ulcers.
There are four stages of bed sores, based on their severity:
Stage 1: In this stage, the skin appears red, and it may feel warm or tender. In individuals with lighter skin tones, the affected area may appear bluish or purplish.
Stage 2: The skin develops a shallow open sore or a blister, which can be painful. The surrounding tissue may also be damaged.
Stage 3: The sore deepens, extending into the tissue beneath the skin. It may appear as a crater-like wound with visible fat. The risk of infection increases at this stage.
Stage 4: The sore becomes significantly deep, reaching the muscle, tendon, or bone. Severe damage to the surrounding tissues is present, and the risk of complications, such as infection, is high.
WHERE DO BEDSORES DEVELOP?
Bed sores can develop on any part of the body that is subjected to prolonged pressure, friction, or shear forces. However, certain areas are more prone to developing bed sores due to their bony prominences and the amount of pressure they experience when a person is immobile. Common sites where bed sores often develop include:
Sacrum (lower back): The sacral region, which is the base of the spine above the buttocks, is one of the most common sites for bed sores.

Heels: Bed sores frequently occur on the heels, especially in individuals who spend a significant amount of time lying in bed without changing positions.

Hips: The bony areas of the hips, particularly the hip bones (trochanters), are susceptible to pressure ulcers.

Elbows: When a person spends extended periods resting on their elbows or leans on them for support, the skin over the elbows can become vulnerable to bed sores.

Shoulders: Bed sores can develop on the shoulder blades or other areas where the skin is in contact with a support surface.

Back of the head: Individuals who spend a lot of time lying in bed or sitting in a chair without proper head support may develop bed sores on the back of their heads.
LAWS AGAINST BEDSORES & IMPROPER CARE IN AZ
In Arizona, there are laws and regulations in place to protect patients' rights and ensure proper care, including the prevention and treatment of bed sores.
Some laws that may apply include:
Adult Protective Services Act: This law aims to protect vulnerable adults from abuse, neglect, and exploitation. It establishes guidelines for reporting and investigating incidents of mistreatment, including cases involving improper care that may contribute to the development of bed sores.

Arizona Nursing Care Institution Abuse and Neglect Act: This act outlines regulations related to the care provided in nursing homes and other long-term care facilities. It includes provisions to prevent and address bed sores and sets standards for appropriate care, staffing, and facility conditions.

Arizona Administrative Code: The Arizona Department of Health Services has established rules and regulations that govern healthcare facilities, including requirements for patient care, prevention of pressure ulcers, documentation, and reporting of adverse events.
WHAT ARE MY LEGAL RIGHTS IF A LOVED ONE HAS BED SORES?
If a loved one has developed bed sores due to neglect or improper care, it is important to be aware of your legal rights.
Right to Quality Care: Patients have the right to receive proper medical care and treatment, including the prevention and management of bed sores. Healthcare providers have a duty to provide a reasonable standard of care, and if they fail to do so, they may be held accountable for any resulting harm.

Right to File a Complaint: You have the right to file a complaint with the appropriate regulatory authorities, such as the state health department or licensing boards. They can investigate the situation and take necessary actions against healthcare facilities or professionals who have provided substandard care.

Right to Legal Action: If your loved one has suffered harm, including bed sores, as a result of negligence or improper care, you may have the right to pursue legal action. This could involve filing a medical malpractice or negligence lawsuit against the responsible parties, seeking compensation for damages such as medical expenses, pain and suffering, and loss of quality of life.
FILING A LAWSUIT FOR BEDSORES IN PHOENIX, AZ
If you are considering filing a lawsuit for bedsores in Phoenix, Arizona, it is crucial to consult with a qualified attorney who specializes in medical malpractice or personal injury law. They can provide you with accurate guidance based on the specifics of your case.
The general process for filing a lawsuit is as follows:
Consultation with an Attorney: Schedule a consultation with a reputable attorney who has experience in medical malpractice or personal injury cases. During this initial meeting, you can discuss the details of your loved one's situation, including their development of bedsores, the circumstances surrounding their care, and any evidence you may have.
Investigation and Gathering Evidence: Your attorney will conduct a thorough investigation to gather relevant evidence. This may involve reviewing medical records, obtaining expert opinions, interviewing witnesses, and collecting any other documentation that supports your claim of negligence or improper care.
Notice of Claim: In Arizona, before filing a medical malpractice lawsuit, you typically need to provide notice to the potential defendants. This notice must include specific information about the claim, such as the nature of the injuries and the basis for the claim of negligence. Your attorney can assist you in properly preparing and submitting this notice within the required timeframe.
Negotiation and Settlement: In some cases, parties may engage in negotiations or mediation to attempt a settlement before proceeding to trial. Your attorney will advocate on your behalf during these discussions to seek a fair and appropriate resolution.
Filing the Lawsuit: If a settlement cannot be reached or negotiations fail, your attorney will prepare and file the lawsuit on your behalf. This involves drafting a complaint outlining the allegations against the defendants and submitting it to the appropriate court in Phoenix, Arizona.
Discovery and Pretrial Proceedings: Both parties engage in the discovery process, exchanging relevant information and evidence. Depositions may be conducted, where witnesses provide sworn testimony. There may also be pretrial hearings and motions to address various legal matters.
Trial: If the case proceeds to trial, your attorney will present your case before a judge and/or jury. They will present evidence, call witnesses, and argue your position. The opposing side will do the same. The judge or jury will then make a determination regarding liability and potential damages.
REPRESENTATION FOR BEDSORE LAWSUITS IN PHOENIX
It is advisable to consult with an attorney who specializes in elder law, medical malpractice, or personal injury. They can evaluate the specific circumstances of your case, determine the viability of a legal claim, and guide you through the legal process.
Contact us online or call (602) 648-4045 to speak with one of our Phoenix bedsore attorneys today. The initial consultation is free.
PHOENIX BEDSORES ATTORNEY
Contact us online or call (602) 648-4045 to speak with one of our Phoenix bedsore attorneys today. The initial consultation is free.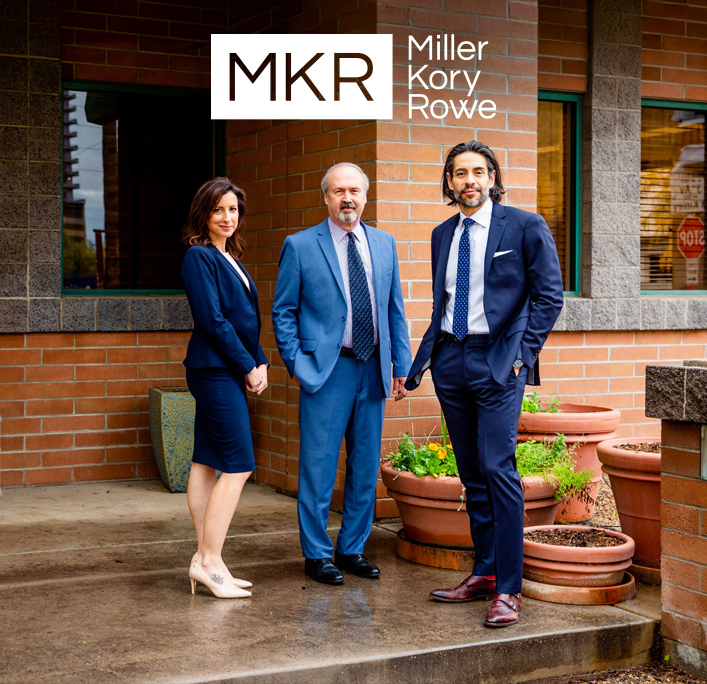 HANDLED WITH PROFESSIONALISM,
PRIDE AND RESPECT
"We researched a few law offices that would handled a delicate case in behalf of our beloved mother. From our initial meeting to the final, the experience was handled with professionalism, pride and respectful. We couldn't have gone to a better law firm to handle our case. I highly recommend this law firm for any of your love ones with a wrongful death. We can now bring closure to the care center in this case, however, closure in loosing my mother in such matter will take time for healing. Thanks to Jeff, Gab, Lorraine, Lupe, and the rest of the staff for caring."
YOU WON'T FIND A BETTER LAW FIRM!
"You won't find a better law firm! I have known Kory for more than 20 years and his dedication and work ethic are second to none."
DEDICATED ADVOCATE FOR HIS CLIENTS
"He is an excellent lawyer and a dedicated advocate for his clients. He has the highest degree of fairness and integrity towards clients, colleagues, and opposing counsel."
IT IS A VERY PRESTIGIOUS OFFICE
"It is a very prestigious office not only for the quality of the work but for the humility of each one of its attorneys, that their passion is to serve every one of their clients as a family member. The office in general does everything that is in their hands to assist in the best way possible every single individual that comes in through the doors of Miller Kory Rowe LLP."
HIGHLY RECOMMENDED FROM THEIR PEERS
"I was referred to Miller Kory Rowe LLP after the sudden loss of my Mom. It says a lot when you are refereed to a different Lawyer because they are so highly recommended from their peers. It was great comfort to have Gabe and his Team of spectacular people with support and going to extra mile for my Brother and I in such a stressful time in our lives. No matter what complications that happen with our case they did an amazing job. The case settled out of court in our favor which meant the World to me vs. the pain of a trial."
DO I HAVE A CASE?
TALK TO OUR ATTORNEYS NOW