ARIZONA WRONGFUL DEATH ATTORNEYS
WRONGFUL DEATH REPRESENTATION IN ARIZONA
The unexpected and untimely loss of a loved one is always a deeply tragic event, no matter the circumstances. This unthinkable scenario can become even more difficult to process when the death is the result of another person or organization's negligence or misconduct.
If you have lost a family member due to the actions of another party, you deserve justice. Our Arizona wrongful death lawyers will fight to hold responsible individuals or entities accountable and get you the closure you need to move forward. At Miller Kory Rowe LLP, we aim to become trusted members of your family who are here to provide compassionate, effective support during this challenging time. You will have direct access to our legal professionals throughout our handling of your case, and we will fervently protect your family's interests from beginning to end.
WHAT IS CONSIDERED "WRONGFUL DEATH" IN ARIZONA?
Legally, "wrongful death" is a situation when a person passes away because of the actions of someone else. Specifically, a person might die because of a negligence-based accident (such as a motorcycle or truck collision), medical malpractice, or a deliberate act of violence. When a qualifying party successfully brings a wrongful death claim, the at-fault party must compensate the plaintiff in the form of monetary and non-monetary damages.
Note that wrongful death lawsuits are civil matters that exist and operate independently of criminal proceedings. For example, if someone is killed due to an intentional act, the perpetrator may face criminal homicide charges. Separately, a qualifying surviving family member or estate representative could file a wrongful death lawsuit and seek damages.
The outcome of a criminal case does not impact the result of a wrongful death claim (and vice versa). The standards of are also different: In a criminal case, a person must be guilty beyond a reasonable doubt, while in a wrongful death lawsuit, you must show the defendant's actions more likely than not resulted in the deceased person's death.
If you are not sure whether your loved one's passing warrants civil legal action, we can help. Our Arizona wrongful death attorneys are familiar with how these matters are handled in local courts and can walk you through your legal options.
WHO CAN FILE A WRONGFUL DEATH LAWSUIT IN ARIZONA?
The state of Arizona limits who can bring a wrongful death lawsuit. Certain types of relatives cannot necessarily take legal action, even if they are the deceased's only surviving relatives.
The following parties typically have the right to file a wrongful death claim in Arizona:
The surviving spouse of the deceased person
The surviving child of the deceased person
The surviving parent of the deceased person
The legal guardian of the deceased person
The personal representative (also known as the executor) of the deceased person
The personal representative of the deceased person's spouse, child, or parent if none of these relatives survived the deceased
WRONGFUL DEATH STATUTE OF LIMITATIONS IN ARIZONA
You must act with haste if you are contemplating bringing a wrongful death claim. In Arizona, you only have two years from the date of the victim's passing to start the legal process. Note that this will not necessarily be the date of the accident or incident in which the victim sustained injuries. For example, if your loved one suffered fatal injuries in a car accident, you will have two years from the day they passed away from those injuries, not the date of the crash.
RECOVERING DAMAGES IN AN ARIZONA WRONGFUL DEATH LAWSUIT
At Miller Kory Rowe, we recognize the primary goal of a wrongful death claim should not be to recover compensation. No amount of money will fix what has happened. At the same time, your family should not have to experience financial burdens and the accompanying stress caused by the sudden loss of your loved one. In addition to holding the responsible party accountable for their conduct, this form of legal action can get you the compensation you need to cover expenses and lost wages.
Our Arizona wrongful death lawyers will work to secure compensation for many types of damages, including:
Burial and funeral costs
Medical bills resulting from the deceased's fatal injuries or illness
Wages and benefits the deceased would have earned had they lived
Pain and suffering experienced by the deceased before their passing
Pain and suffering sustained by your family as a direct result of the deceased's death
Loss of companionship, services, and guidance
In some rare cases, a court may additionally award "punitive damages." This type of compensation is not tied to any loss sustained by your family but is meant to punish the defendant for especially unacceptable behavior and deter similar conduct in the future.
GET COMPASSIONATE LEGAL GUIDANCE
We recognize that no one wants to think about or navigate complex legal proceedings in the wake of a loved one's death. By hiring an experienced attorney, you get an advocate who will handle the bulk of the legal work while you focus on mourning. Our team at Miller Kory Rowe LLP strives to make this process as comfortable and efficient as possible, and, to that end, we are more than happy to meet you wherever is most convenient. We will stay in close contact as your case proceeds and do everything possible to get your family justice.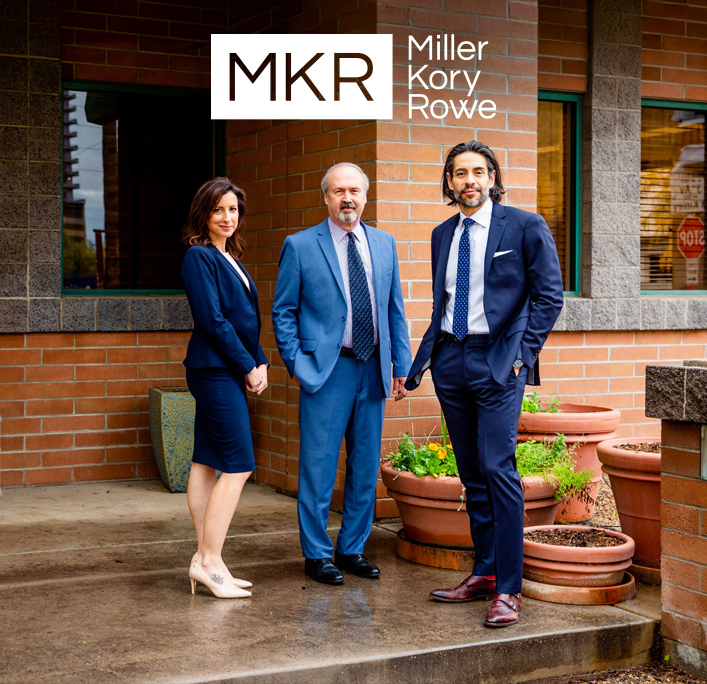 HANDLED WITH PROFESSIONALISM,
PRIDE AND RESPECT
"We researched a few law offices that would handled a delicate case in behalf of our beloved mother. From our initial meeting to the final, the experience was handled with professionalism, pride and respectful. We couldn't have gone to a better law firm to handle our case. I highly recommend this law firm for any of your love ones with a wrongful death. We can now bring closure to the care center in this case, however, closure in loosing my mother in such matter will take time for healing. Thanks to Jeff, Gab, Lorraine, Lupe, and the rest of the staff for caring."
YOU WON'T FIND A BETTER LAW FIRM!
"You won't find a better law firm! I have known Kory for more than 20 years and his dedication and work ethic are second to none."
DEDICATED ADVOCATE FOR HIS CLIENTS
"He is an excellent lawyer and a dedicated advocate for his clients. He has the highest degree of fairness and integrity towards clients, colleagues, and opposing counsel."
IT IS A VERY PRESTIGIOUS OFFICE
"It is a very prestigious office not only for the quality of the work but for the humility of each one of its attorneys, that their passion is to serve every one of their clients as a family member. The office in general does everything that is in their hands to assist in the best way possible every single individual that comes in through the doors of Miller Kory Rowe LLP."
HIGHLY RECOMMENDED FROM THEIR PEERS
"I was referred to Miller Kory Rowe LLP after the sudden loss of my Mom. It says a lot when you are refereed to a different Lawyer because they are so highly recommended from their peers. It was great comfort to have Gabe and his Team of spectacular people with support and going to extra mile for my Brother and I in such a stressful time in our lives. No matter what complications that happen with our case they did an amazing job. The case settled out of court in our favor which meant the World to me vs. the pain of a trial."
DO I HAVE A CASE?
TALK TO OUR ATTORNEYS NOW