ARIZONA MOTORCYCLE ACCIDENT LAWYERS
PROTECTING YOUR RIGHT TO A FAIR RECOVERY
Although any motor vehicle accident can be devastating, motorcycle crashes tend to result in particularly severe injuries and a disproportionate number of traffic-related deaths. According to the National Highway Traffic Safety Administration (NHTSA), on average, motorcyclists are about four times more likely to be injured and nearly 30 times more likely to die in traffic accidents than occupants of passenger vehicles. 
At Miller Kory Rowe LLP, we understand just how tragic motorcycle accidents can be, both for victims and their families. Our legal team provides compassionate legal representation to injured bikers and the families of fatal motorcycle accident victims throughout Arizona. We fight for those who have suffered catastrophic injuries and life-altering losses, making it our mission to hold negligent parties accountable and ensure that justice is served. 
We invite you to schedule a complimentary consultation with one of our Arizona motorcycle accident attorneys; simply call (602) 648-4045 or reach us online using our secure contact form.
COMMON CAUSES OF MOTORCYCLE ACCIDENTS
Like other auto accidents, most motorcycle accidents are the result of negligence. This negligence may take many forms, but the consequences are nearly always catastrophic.
Specifically, some of the most common causes of motorcycle accidents in Arizona include: 
Speeding, including driving too fast for current conditions
Distracted driving, such as using a cellphone or texting while driving
Driving under the influence of alcohol and/or drugs 
Failing to check for motorcyclists in vehicles' blind spots 
Following too closely, or "tailgating" 
Unsafe or illegal turns, lane changes, and other driving maneuvers 
Aggressive or reckless driving, including excessive speeds and road rage
Failing to obey traffic control devices, such as stop signs or signals 
Failing to yield the right of way to motorcyclists
In addition to driver error and negligence, motorcyclists are also highly susceptible to bodily injury and fatality when faced with certain unsafe conditions. These include poorly maintained roadways, which may contain potholes, debris, and other hazards that put motorcyclists at a disproportionate risk of becoming involved in an accident. They also include defectively designed or constructed roadways, unsafe highway work zones, and even inclement weather, which can lead to reduced visibility. 
At Miller Kory Rowe LLP, we carefully investigate motorcycle accidents to determine the exact cause(s) of the crash. This, in turn, allows our Arizona motorcycle accident attorneys to identify the liable party/parties and build powerful, evidence-based claims against them.  
WHO IS RESPONSIBLE FOR A MOTORCYCLE ACCIDENT?
Determining who is responsible for a motorcycle accident is an important element of your personal injury or wrongful death case, as it also indicates who is legally liable for your damages. Because Arizona follows a traditional fault-based auto insurance system, the person or party that caused the crash is nearly always the one responsible for the victim's accident-related losses. 
Most motorcycle accidents are caused by driver negligence. As such, liability in most motorcycle accident claims lies with the at-fault driver. However, this is not always the case. Sometimes, there may be a liable third party who is partly or entirely responsible for the victim's damages. For example, if a motorcyclist was severely injured in an accident caused by poor roadway maintenance, the municipal entity responsible for maintaining the road would likely be at least partially responsible. 
COMPENSATION FOR MOTORCYCLE ACCIDENT VICTIMS
When it comes to collisions with other vehicles and even single-vehicle accidents, motorcyclists are virtually unprotected. Although protective gear—such as approved motorcycle helmets and thick, heavy clothing—reduces the risk of serious bodily injury, it cannot and does not completely eliminate that risk. 
In fact, most motorcycle accident victims sustain significant injuries, and many tragically pass away as a result of their injuries. As such, victims and their families are bound to experience considerable physical, emotional, and financial challenges after a motorcycle accident. 
Collectively, these losses—both economic and non-economic—are known as "damages." By filing a motorcycle accident claim in Arizona, you can seek financial compensation for these damages. 
Depending on the unique circumstances of your case, you may be entitled to compensation for the following types of damages: 
Medical expenses, such as emergency care and transportation, hospitalization, prescription medications, surgeries, and other treatment costs 
Projected future medical expenses related to your motorcycle accident injuries 
Rehabilitation and physical therapy 
Lost income, wages, and employment-related benefits, as well as loss of projected future earnings due to permanent injury or disability 
Lost earning capacity resulting from a permanent injury or injury-related impairment 
Physical and mental pain and suffering, including future pain and suffering
Lost or reduced enjoyment/quality of life 
Disfigurement, inconvenience, emotional distress, and anguish 
Funeral and/or burial costs (in wrongful death cases) 
Keep in mind that every case is different; the exact types of damages you can recover, as well as the overall value of your claim, depend heavily on the specific factors involved. Our team can review your potential case and provide detailed information regarding your legal rights and options during a no-cost, no-obligation case evaluation.  
HOW THE ATTORNEYS AT MILLER KORY ROWE LLP CAN HELP
We are passionate about standing up for the rights of injured bikers and their families. Our attorneys understand the many challenges and prejudices motorcyclists face, and they know how to counter preconceived notions and misconceptions about bikers both in and out of the courtroom. We are aggressive negotiators and litigators, and we prepare every case for trial.
When you trust your recovery to the Arizona motorcycle accident lawyers at Miller Kory Rowe LLP, you can focus on what matters most: healing. We will handle every legal detail and keep you informed every step of the way. Our firm offers personal attention, compassionate guidance, and reliable communication throughout the legal process. When it comes to your recovery, we are all in.
Give us a call at (602) 648-4045 or reach us online using our secure contact form. Your initial consultation is completely free.
SCHEDULE YOUR FREE CONSULTATION TODAY
Get in touch with our team today to learn how we can assist you with your motorcycle accident case. If you cannot travel to our office, we can come to you. Our attorneys are happy to meet with you at home, in the hospital, or wherever is convenient for you.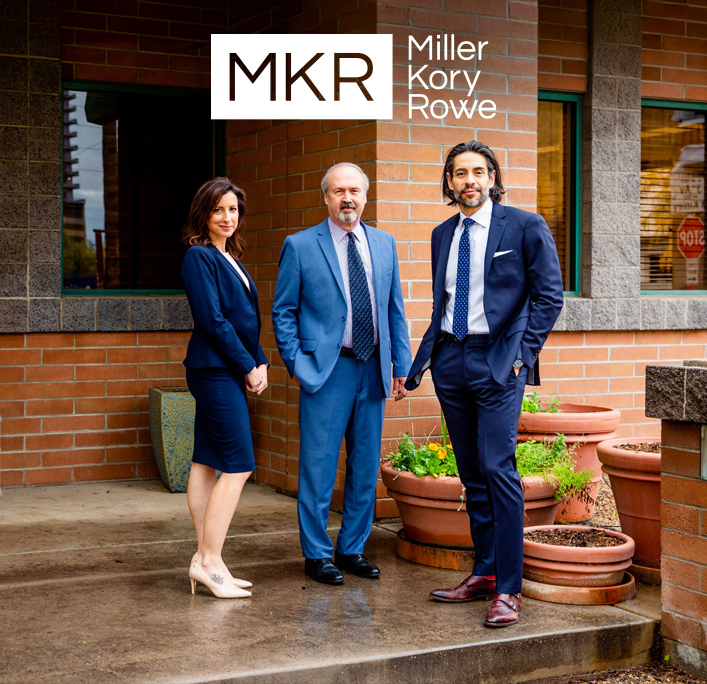 HANDLED WITH PROFESSIONALISM,
PRIDE AND RESPECT
"We researched a few law offices that would handled a delicate case in behalf of our beloved mother. From our initial meeting to the final, the experience was handled with professionalism, pride and respectful. We couldn't have gone to a better law firm to handle our case. I highly recommend this law firm for any of your love ones with a wrongful death. We can now bring closure to the care center in this case, however, closure in loosing my mother in such matter will take time for healing. Thanks to Jeff, Gab, Lorraine, Lupe, and the rest of the staff for caring."
YOU WON'T FIND A BETTER LAW FIRM!
"You won't find a better law firm! I have known Kory for more than 20 years and his dedication and work ethic are second to none."
DEDICATED ADVOCATE FOR HIS CLIENTS
"He is an excellent lawyer and a dedicated advocate for his clients. He has the highest degree of fairness and integrity towards clients, colleagues, and opposing counsel."
IT IS A VERY PRESTIGIOUS OFFICE
"It is a very prestigious office not only for the quality of the work but for the humility of each one of its attorneys, that their passion is to serve every one of their clients as a family member. The office in general does everything that is in their hands to assist in the best way possible every single individual that comes in through the doors of Miller Kory Rowe LLP."
HIGHLY RECOMMENDED FROM THEIR PEERS
"I was referred to Miller Kory Rowe LLP after the sudden loss of my Mom. It says a lot when you are refereed to a different Lawyer because they are so highly recommended from their peers. It was great comfort to have Gabe and his Team of spectacular people with support and going to extra mile for my Brother and I in such a stressful time in our lives. No matter what complications that happen with our case they did an amazing job. The case settled out of court in our favor which meant the World to me vs. the pain of a trial."
DO I HAVE A CASE?
TALK TO OUR ATTORNEYS NOW