TUCSON MOTORCYCLE ACCIDENT ATTORNEYS
TUCSON MOTORCYCLE ACCIDENT ATTORNEYS
TRIAL LAWYERS REPRESENTING INJURED LOCAL RIDERS
If you've been in a motorcycle accident in Tucson, then you should see what legal options are available to seek compensation. Miller Kory Rowe is the first name that many local riders call after a wreck, and for good reason. Our Tucson motorcycle accident lawyers are highly experienced and awarded for their outstanding legal services.
Three reasons why you should choose Miller Kory Rowe first, too:
We have 60+ years of collective legal experience with a focus on plaintiff injury claims.
We have trial attorneys who can represent you in courtroom litigation.
We have extensive resources that we can access to conduct thorough investigations. 
CATASTROPHIC INJURIES & MOTORCYCLE ACCIDENTS
At Miller Kory Rowe, we primarily focus on claims filed by plaintiffs who have suffered life-changing injuries. For this reason, we are no strangers to motorcycle accident cases, which typically involve catastrophic injuries and steep financial damages.
What sort of catastrophic injury did you suffer in your motorcycle accident? We can work with medical experts to gain an advanced understanding of your injury and how it has impacted your day-to-day life, finances, and happiness.
Catastrophic injuries often caused by motorcycle accidents include:
Traumatic brain injuries: Even with a helmet on, motorcycle riders are at significant risk of head and brain injuries in a wreck. A mild traumatic brain injury (mTBI) is still life-changing, often associated with memory loss, coordination issues, chronic migraines, and other severe symptoms.
Spinal cord injuries: A motorcycle accident that throws the rider onto the asphalt can cause a spinal cord or back injury. Severe spinal cord injuries can cause permanent paralysis, which will require specialized care and therapy for the rest of the rider's life.
Road rash: When a motorcyclist falls off their bike and skids across the asphalt, it can cause road rash, a severe and potentially life-threatening soft tissue and skin injury. Road rash can result in permanent disfigurement, even with complete medical care.
Bone fractures: Broken bones are one of the most common injuries suffered by motorcycle riders who are hit by negligent motorists and thrown off their rides. If a broken bone does not set correctly, it can cause permanent complications, so it is important to make sure that you can get the medical care that you need.
COMMON TYPES OF MOTORCYCLE ACCIDENTS
Motorcycle accidents can take many forms and happen due to all sorts of mistakes and circumstances. At Miller Kory Rowe, we can investigate any motorcycle accident claim to determine liability or fault, no matter what type of accident is in question.
Different types of motorcycle accidents and their causes include:
Head-on collision: According to the National Highway Traffic Safety Administration (NHTSA), head-on collisions are one of the most common types of motorcycle accidents across the country. A head-on collision usually results in catastrophic injuries suffered by parties in both vehicles.
Left-hand turn accidents: Many motorcycle accidents happen when the rider is moving through an intersection but a driver coming from the other direction turns left in front of them. Drivers who aren't paying enough attention to the road sometimes look right at an approaching motorcycle but don't register what they've seen because the vehicle is smaller than others on the road.
Lane-splitting accidents: Arizona does not permit lane-splitting, which is riding a motorcycle between occupied lanes of traffic, often to pass slow or stopped vehicles. Motorcyclists might be at a greater risk of an accident when lane-splitting because the drivers around them won't expect their vehicles to be there.
Unsafe road conditions: If the road is poorly maintained, then all motorists are placed in undue danger. However, motorcyclists tend to be at a greater risk than others. For example, if a motorcycle hits a pothole at highway speeds, then it could flip end-over-end. In this situation, the municipal agency in charge of road maintenance could be liable, so you must act quickly to see if you can file a claim.
Motorcycle part defects: If a motorcycle part becomes defective without the rider knowing, then it could cause a sudden failure while in use, resulting in a crash.
HERE TO PREPARE YOUR CASE – CALL NOW
You should explore your legal options after a motorcycle accident with the help of Miller Kory Rowe. Our Tucson motorcycle accident lawyers are always standing by to hear from new and returning clients who have been in a wreck that was not their fault. While you focus on taking care of yourself, we can focus on making the most of your case.
TUCSON MOTORCYCLE ACCIDENT FAQ
ARE MOTORCYCLE HELMETS REQUIRED IN ARIZONA?
Motorcycle helmets aren't required to wear a helmet if they are a legal adult (18 or older). However, all riders should wear helmets to reduce the risk of a head or brain injury in a wreck.
WHAT EVIDENCE CAN HELP WITH A MOTORCYCLE ACCIDENT CLAIM?
Defendants in a motorcycle accident claim will argue against their liability however they can. Concrete evidence is often a must to refute them. Some of the best forms of motorcycle accident evidence include motorcycle helmet cam footage, accident reports from first responders, and eyewitness statements.
HOW LONG DOES A MOTORCYCLE ACCIDENT CLAIM TAKE TO SETTLE?
A motorcycle accident claim that can settle might still take a while to do so. On average, settlements are reached between six months and one year after the accident. Factors unique to a case can sometimes extend the settlement time noticeably, though.
TUCSON MOTORCYCLE ACCIDENT ATTORNEYS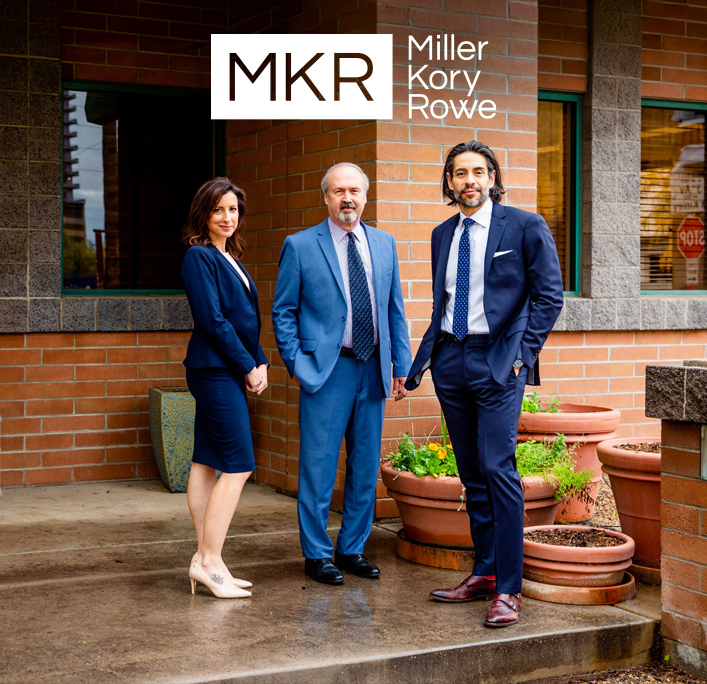 HANDLED WITH PROFESSIONALISM,
PRIDE AND RESPECT
"We researched a few law offices that would handled a delicate case in behalf of our beloved mother. From our initial meeting to the final, the experience was handled with professionalism, pride and respectful. We couldn't have gone to a better law firm to handle our case. I highly recommend this law firm for any of your love ones with a wrongful death. We can now bring closure to the care center in this case, however, closure in loosing my mother in such matter will take time for healing. Thanks to Jeff, Gab, Lorraine, Lupe, and the rest of the staff for caring."
YOU WON'T FIND A BETTER LAW FIRM!
"You won't find a better law firm! I have known Kory for more than 20 years and his dedication and work ethic are second to none."
DEDICATED ADVOCATE FOR HIS CLIENTS
"He is an excellent lawyer and a dedicated advocate for his clients. He has the highest degree of fairness and integrity towards clients, colleagues, and opposing counsel."
IT IS A VERY PRESTIGIOUS OFFICE
"It is a very prestigious office not only for the quality of the work but for the humility of each one of its attorneys, that their passion is to serve every one of their clients as a family member. The office in general does everything that is in their hands to assist in the best way possible every single individual that comes in through the doors of Miller Kory Rowe LLP."
HIGHLY RECOMMENDED FROM THEIR PEERS
"I was referred to Miller Kory Rowe LLP after the sudden loss of my Mom. It says a lot when you are refereed to a different Lawyer because they are so highly recommended from their peers. It was great comfort to have Gabe and his Team of spectacular people with support and going to extra mile for my Brother and I in such a stressful time in our lives. No matter what complications that happen with our case they did an amazing job. The case settled out of court in our favor which meant the World to me vs. the pain of a trial."
DO I HAVE A CASE?
TALK TO OUR ATTORNEYS NOW