TUCSON CATASTROPHIC INJURY LAWYERS
TUCSON CATASTROPHIC INJURY LAWYERS
FOR DIFFICULT CASES, CALL US FIRST
Few injury claims are as serious as catastrophic injury claims. Make sure that you're ready to handle yours by coming to a law firm that will recognize the severity of the situation. For the people of Tucson, that firm is Miller Kory Rowe.
Our Tucson catastrophic injury attorneys bring decades of collective experience to every case we accept. We can also put our heads together for complicated cases, so your case can benefit from more than just one lawyer's insight. If you or a loved one were seriously injured in an accident caused by someone else's mistakes or negligence, then you should come to our firm first for compassionate legal counsel and guidance. 
TYPES OF CATASTROPHIC INJURIES
A catastrophic injury causes life-changing consequences and permanent disabilities or complications. Although all injuries are serious to the people who suffer them, not all of them are necessarily catastrophic.
Different types of catastrophic injuries include:
Traumatic brain injury (TBI)
Paralysis
Amputation
Permanent scarring
Loss of organ function
Sensory loss
HOW CATASTROPHIC INJURIES HAPPEN
Miller Kory Rowe can work on a wide range of different injury claims that involve all sorts of accidents. We are prepared to work on your case, no matter how the accident and injury happened.
Leading causes of catastrophic injuries in Arizona include:
Motorcycle accidents
Slip and fall accidents
Medical malpractice
Construction accidents
Workplace accidents
CATASTROPHIC INJURY CASE COMPENSATION
On average, catastrophic injury claims involve damages that far exceed those in a typical personal injury claim. You don't want to risk the compensation that could help restabilize your life and finances to a firm that isn't ready for the weight of your case. You should bring your catastrophic injury claim to our law firm for many reasons, including the overall worth of the claim.
Our Tucson catastrophic injury attorneys can work with medical and financial experts when calculating the value of your claim based on the compensation owed to you. With their input, we can better understand how your catastrophic injury will impact your life many years from now, physically, emotionally, and financially.
Catastrophic injury claim damages can include:
Past and future medical bills
Years of physical therapy
Specialized medical treatments
Lost wages and income
Pain and suffering
Reduced enjoyment of life
WORK WITH LEGAL PROFESSIONALS – CALL TODAY
Your catastrophic injury claim is as important to us as it is to you. At Miller Kory Rowe in Tucson, Arizona, we see each case as an opportunity to stand up for a member of our community. It would be our honor to pursue full compensation and fight insurance companies in your name. Find out more about your case and how to start it by contacting us now.
Want to speak directly with a member of our team? Dial (602) 648-4045.
TUCSON CATASTROPHIC INJURY FAQ
You should explore your legal options after a motorcycle accident with the help of Miller Kory Rowe. Our Tucson motorcycle accident lawyers are always standing by to hear from new and returning clients who have been in a wreck that was not their fault. While you focus on taking care of yourself, we can focus on making the most of your case.
TUCSON MOTORCYCLE ACCIDENT FAQ
DO CATASTROPHIC INJURY CASES GO TO TRIAL?
Catastrophic injury cases usually make defendants and their insurance companies even more defensive. They don't want to be liable for the steep damages associated with such life-changing injuries. For this reason, a catastrophic injury case can end up in trial, but it isn't guaranteed. Many cases can still be settled with the help of an experienced lawyer.
HOW MUCH TIME DO I HAVE TO FILE A CATASTROPHIC INJURY CLAIM IN ARIZONA?
In Arizona, most catastrophic injury claims are bound to a strict two-year statute of limitations that begins on the date of the injury or when the serious illness was first diagnosed. You must file a claim in court within those two years, or the court will reject any claim you bring after, even if you are well-prepared with plenty of evidence that shows the intended defendant caused your losses.
HOW MUCH DO CATASTROPHIC INJURY ATTORNEYS COST?
At Miller Kory Rowe, we offer contingency fees to our catastrophic injury clients. This fee system doesn't require you to pay any attorney fees unless we win your case, which means getting you paid through a settlement or award. Also, the contingency fee that we earn by winning will be equal to a percentage of your settlement or award, so you can always afford them.
TUCSON CATASTROPHIC INJURY LAWYERS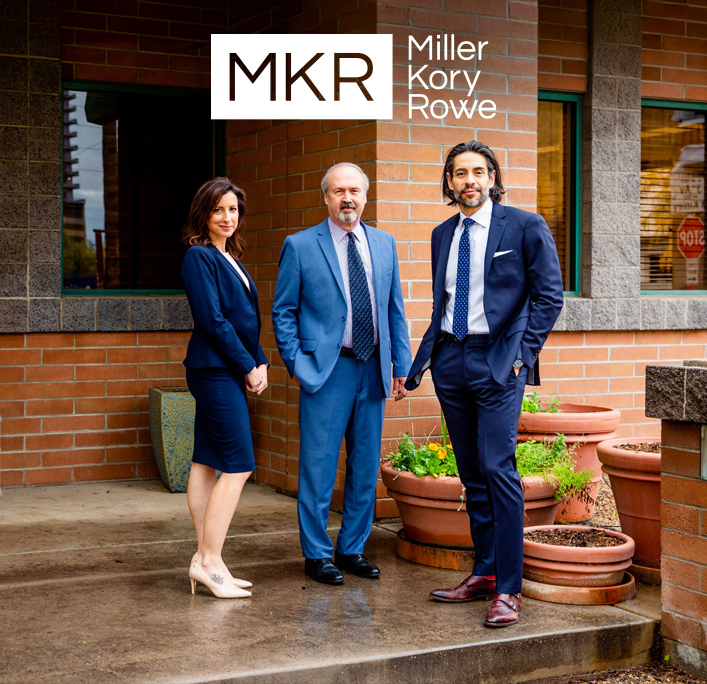 HANDLED WITH PROFESSIONALISM,
PRIDE AND RESPECT
"We researched a few law offices that would handled a delicate case in behalf of our beloved mother. From our initial meeting to the final, the experience was handled with professionalism, pride and respectful. We couldn't have gone to a better law firm to handle our case. I highly recommend this law firm for any of your love ones with a wrongful death. We can now bring closure to the care center in this case, however, closure in loosing my mother in such matter will take time for healing. Thanks to Jeff, Gab, Lorraine, Lupe, and the rest of the staff for caring."
YOU WON'T FIND A BETTER LAW FIRM!
"You won't find a better law firm! I have known Kory for more than 20 years and his dedication and work ethic are second to none."
DEDICATED ADVOCATE FOR HIS CLIENTS
"He is an excellent lawyer and a dedicated advocate for his clients. He has the highest degree of fairness and integrity towards clients, colleagues, and opposing counsel."
IT IS A VERY PRESTIGIOUS OFFICE
"It is a very prestigious office not only for the quality of the work but for the humility of each one of its attorneys, that their passion is to serve every one of their clients as a family member. The office in general does everything that is in their hands to assist in the best way possible every single individual that comes in through the doors of Miller Kory Rowe LLP."
HIGHLY RECOMMENDED FROM THEIR PEERS
"I was referred to Miller Kory Rowe LLP after the sudden loss of my Mom. It says a lot when you are refereed to a different Lawyer because they are so highly recommended from their peers. It was great comfort to have Gabe and his Team of spectacular people with support and going to extra mile for my Brother and I in such a stressful time in our lives. No matter what complications that happen with our case they did an amazing job. The case settled out of court in our favor which meant the World to me vs. the pain of a trial."
DO I HAVE A CASE?
TALK TO OUR ATTORNEYS NOW