TUCSON TRUCK ACCIDENT ATTORNEYS
TUCSON TRUCK ACCIDENT ATTORNEYS
HELPING YOU SECURE FAIR COMPENSATION FOLLOWING SERIOUS INJURIES
According to recent statistics, there were 2,522 commercial tractor-trailer truck accidents in Arizona in 2016; 204 accidents involving dump trucks, 132 accidents involving garbage trucks, and 40 tanker truck accidents. Nationwide, the National Highway Transportation Safety Administration (NHTSA) reported an increase in fatal commercial truck accidents in 2016, continuing a trend that is showing increases across the board. If you have been in an accident like this, contacting a Tucson trucking accident attorney can help.
Commercial trucks pose a greater danger than cars and motorcycles because they are larger, longer, and more powerful vehicles. When you combine these vehicles with factors such as driver distraction and fatigue, you create the perfect storm for something to go wrong. The federal government has responded to the increase in truck accidents by implementing safety regulations that will ensure that drivers comply with mandatory rest periods to prevent fatigue.
COMMON CAUSES OF ARIZONA COMMERCIAL TRUCK ACCIDENTS
There most common causes of commercial truck accidents include:
Driver Distraction – Driver distraction has become a problem in all types of vehicles, but it is especially dangerous with commercial trucks, because of the destruction they cause when they hit smaller vehicles. Common types of distractions include texting while driving, using a GPS, talking on a mobile phone, eating, and talking to a passenger.
Fatigue – While many outsiders think of fatigue as an acceptable part of being a commercial truck driver, the truth is that truckers who don't take their mandatory rest breaks are far more likely to experience fatigue while driving. And fatigue can cause a loss of concentration, a slower reaction time, and a greater likelihood of a driver falling asleep at the wheel.
Unsafe Lane Changes – Commercial trucks have a bigger blind spot than small vehicles. A blind spot refers to the area which a side mirror can't see when a driver is attempting to change lanes. Because of this blind spot, commercial truck drivers who don't perform shoulder checks to ensure that there are no cars in the adjacent lane will cause an accident.
Speeding – Across the board, there is no 'safe' way to speed whether a driver is in a car or a commercial truck. But the danger with commercial trucks is that it takes much longer to bring these vehicles to a stop, so when a driver applies the brakes to a speeding truck, it may be too late to avoid a devastating rear-end accident.
Inexperience – Over the past decade, there has been a serious shortfall in the number of qualified commercial truck drivers, as the demands of the job have driven many experienced drivers out of the industry. As a result, truck carriers have been forced to hire inexperienced drivers who are more likely to make mistakes that cause accidents.
Pay Per Mile – Most commercial truck drivers are paid per mile driven and not a flat rate or per hour. That means that some drivers are more likely to skip their mandatory rest periods and in doing so, they risk the kind of fatigue that can easily lead to an accident. In an effort to lower truck accident rates, some carriers have shifted to a per-hour or flat rate model. Unfortunately, without an industry-wide move from the per-mile model to a model that lowers the desperation drivers feel to meet a delivery schedule, more drivers will take risks to avoid delays.
GOVERNMENT SAFETY MEASURES TO LOWER TUCSON TRUCK ACCIDENTS
The government has implemented several safety measures over the past few years in an effort to lower truck accident rates, including:
Electronic Logging Devices (ELDs) – ELDs are devices that electronically record driving hours and rest periods. The Federal Motor Carrier Safety Administration (FMCSA) mandated that all commercial truck carriers (with minor exceptions) install ELDs in their vehicles by December 2017. The FMCSA has estimated that ELDs will lower fuel costs, lower truck downtime, and lower total crash rates.
Speed Limiters – The FMCSA has also proposed a new rule that would require truck carriers to install speed limiters in their vehicles that would restrict the speed of their trucks to 60 miles per hour, 65 mph, or 68 mph. The proposal is intended to reduce the number of truck accidents caused by speeding, but as of the end of 2017, the proposal has been stalled, as the new presidential administration has not taken the initiative to push the measure through Congress.
THE IMPORTANCE OF HIRING A TUCSON TRUCK ACCIDENT ATTORNEY
If you live in Tucson and you have suffered injuries due to the actions of a commercial truck driver, you need an experienced law firm such as the team at Miller Kory Rowe LLP to help you obtain fair compensation. The insurance companies that cover truck carriers are not interested in justice, or in giving you a fair deal. We have the resources and the expertise to fight them. Please call us today to schedule a consultation.
Contact Miller Kory Rowe LLP today to find out more about how we can help you. Give us a call at (520) 277-7155 or reach out to us online to schedule a consultation.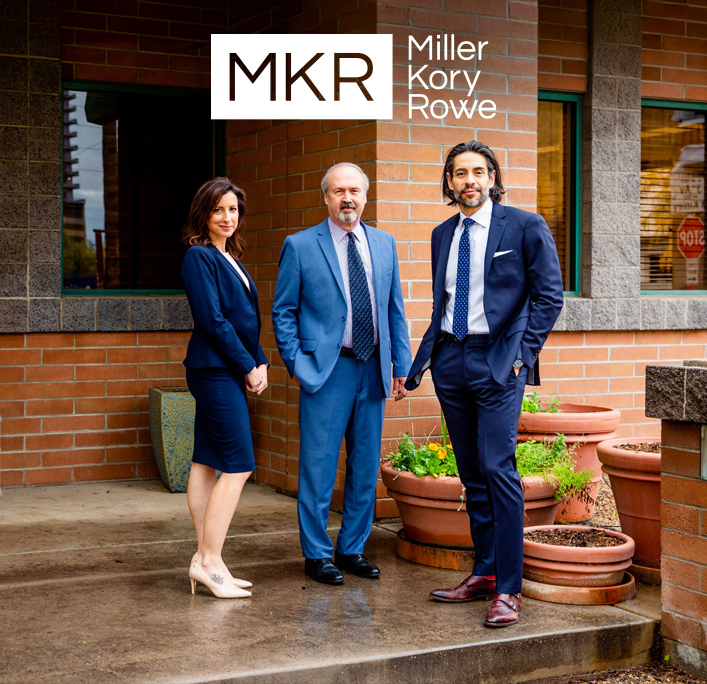 HANDLED WITH PROFESSIONALISM,
PRIDE AND RESPECT
"We researched a few law offices that would handled a delicate case in behalf of our beloved mother. From our initial meeting to the final, the experience was handled with professionalism, pride and respectful. We couldn't have gone to a better law firm to handle our case. I highly recommend this law firm for any of your love ones with a wrongful death. We can now bring closure to the care center in this case, however, closure in loosing my mother in such matter will take time for healing. Thanks to Jeff, Gab, Lorraine, Lupe, and the rest of the staff for caring."
YOU WON'T FIND A BETTER LAW FIRM!
"You won't find a better law firm! I have known Kory for more than 20 years and his dedication and work ethic are second to none."
DEDICATED ADVOCATE FOR HIS CLIENTS
"He is an excellent lawyer and a dedicated advocate for his clients. He has the highest degree of fairness and integrity towards clients, colleagues, and opposing counsel."
IT IS A VERY PRESTIGIOUS OFFICE
"It is a very prestigious office not only for the quality of the work but for the humility of each one of its attorneys, that their passion is to serve every one of their clients as a family member. The office in general does everything that is in their hands to assist in the best way possible every single individual that comes in through the doors of Miller Kory Rowe LLP."
HIGHLY RECOMMENDED FROM THEIR PEERS
"I was referred to Miller Kory Rowe LLP after the sudden loss of my Mom. It says a lot when you are refereed to a different Lawyer because they are so highly recommended from their peers. It was great comfort to have Gabe and his Team of spectacular people with support and going to extra mile for my Brother and I in such a stressful time in our lives. No matter what complications that happen with our case they did an amazing job. The case settled out of court in our favor which meant the World to me vs. the pain of a trial."
DO I HAVE A CASE?
TALK TO OUR ATTORNEYS NOW