PHOENIX MEDICATION ERROR LAWYER
DEDICATED ADVOCATES FOR VICTIMS OF MEDICATION ERRORS IN PHOENIX NURSING HOMES
If you or a loved one has suffered harm due to a medication error in a nursing home, you deserve justice and fair compensation. At Miller Kory Rowe, we understand the devastating impact that medication errors can have on individuals and families. Our experienced team of Phoenix medication error lawyers is here to fight for your rights and hold negligent parties accountable.
UNDERSTANDING MEDICATION ERRORS IN NURSING HOMES
Nursing home residents often rely on caregivers to manage their medications safely and effectively. However, medication errors can occur due to a variety of factors, including understaffing, inadequate training, poor communication, and negligence.
These errors can lead to serious consequences, including:
Incorrect Dosage: Administering too much or too little medication can result in severe health complications or even fatalities. Residents with pre-existing medical conditions may be particularly vulnerable to dosage errors.
Wrong Medication: Providing the wrong medication to a resident can have serious consequences. Different individuals may have different allergies, sensitivities, or drug interactions that can lead to adverse reactions.
Failure to Administer Medication: Neglecting to administer medication at the prescribed times or skipping doses can jeopardize a resident's health and well-being.
Inadequate Monitoring: Proper monitoring of a resident's response to medication is crucial. Failing to monitor for side effects, drug interactions, or changes in condition can result in significant harm.
Documentation Errors: Inaccurate or incomplete medication records can lead to confusion and mistakes in administering medications.
HOW MILLER KORY ROWE CAN HELP
As experienced Phoenix medication error lawyers, we are dedicated to protecting the rights of nursing home residents who have suffered harm due to medication errors.
Here's how we can assist you:
Thorough Investigation: Our team will conduct a comprehensive investigation into the circumstances surrounding the medication error. We will gather evidence, review medical records, consult with experts, and identify the responsible parties.
Expert Guidance: We work closely with medical experts who can provide invaluable insights and opinions regarding the negligence involved in your case. Their expertise helps us build a strong foundation for your claim.
Strong Advocacy: We will negotiate with insurance companies and other parties on your behalf, seeking fair compensation for the damages you have suffered. If necessary, we are prepared to litigate your case in court to protect your rights.
Compassionate Support: We understand the emotional toll that medication errors can have on victims and their families. We provide compassionate support throughout the legal process, keeping you informed and addressing your concerns.
Maximum Compensation: Our goal is to secure maximum compensation for your losses, including medical expenses, pain and suffering, rehabilitation costs, and any other damages you have incurred due to the medication error.
If you or your loved one has been harmed by a medication error in a nursing home, don't hesitate to seek legal representation. We offer a free initial consultation to discuss your case and determine the best course of action. Remember, there are time limits for filing a claim, so act promptly to protect your rights. Together, we can seek justice and hold negligent parties accountable for their actions.
PHOENIX MEDICATION ERROR LAWYER
Contact Miller Kory Rowe LLP today to find out more about how we can help you. Give us a call at (520) 277-7155 or reach out to us online to schedule a consultation.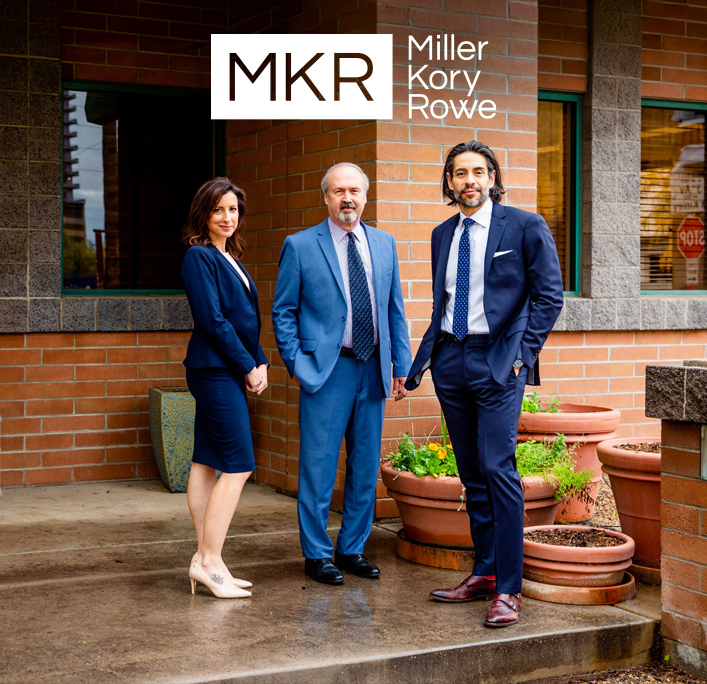 HANDLED WITH PROFESSIONALISM,
PRIDE AND RESPECT
"We researched a few law offices that would handled a delicate case in behalf of our beloved mother. From our initial meeting to the final, the experience was handled with professionalism, pride and respectful. We couldn't have gone to a better law firm to handle our case. I highly recommend this law firm for any of your love ones with a wrongful death. We can now bring closure to the care center in this case, however, closure in loosing my mother in such matter will take time for healing. Thanks to Jeff, Gab, Lorraine, Lupe, and the rest of the staff for caring."
YOU WON'T FIND A BETTER LAW FIRM!
"You won't find a better law firm! I have known Kory for more than 20 years and his dedication and work ethic are second to none."
DEDICATED ADVOCATE FOR HIS CLIENTS
"He is an excellent lawyer and a dedicated advocate for his clients. He has the highest degree of fairness and integrity towards clients, colleagues, and opposing counsel."
IT IS A VERY PRESTIGIOUS OFFICE
"It is a very prestigious office not only for the quality of the work but for the humility of each one of its attorneys, that their passion is to serve every one of their clients as a family member. The office in general does everything that is in their hands to assist in the best way possible every single individual that comes in through the doors of Miller Kory Rowe LLP."
HIGHLY RECOMMENDED FROM THEIR PEERS
"I was referred to Miller Kory Rowe LLP after the sudden loss of my Mom. It says a lot when you are refereed to a different Lawyer because they are so highly recommended from their peers. It was great comfort to have Gabe and his Team of spectacular people with support and going to extra mile for my Brother and I in such a stressful time in our lives. No matter what complications that happen with our case they did an amazing job. The case settled out of court in our favor which meant the World to me vs. the pain of a trial."
DO I HAVE A CASE?
TALK TO OUR ATTORNEYS NOW