Bedsores can have serious consequences for nursing home residents, and if you're seeking legal assistance in filing a claim for bedsores in Arizona, the law firm Miller Kory Rowe specializes in nursing home abuse cases. Our experienced Tucson bedsores lawyers can help you understand your legal options and rights.
Bedsores, also known as pressure ulcers or decubitus ulcers, result from prolonged pressure, friction, or shear forces on the skin. They commonly occur in individuals who are immobile or have limited mobility and spend long periods in bed or sitting. Bony areas of the body are particularly prone to developing bedsores, including the sacrum (lower back), heels, hips, elbows, shoulders, and back of the head.
ARIZONA LAWS CONCERNING BEDSORES & IMPROPER CARE
Arizona has laws and regulations in place to protect patients' rights and ensure proper care. The Adult Protective Services Act aims to safeguard vulnerable adults from abuse and neglect, while the Arizona Nursing Care Institution Abuse and Neglect Act outlines regulations for nursing homes and long-term care facilities. The Arizona Administrative Code sets standards for patient care, prevention of pressure ulcers, and reporting of adverse events.
LEGAL RIGHTS IN AZ IF A LOVED ONE HAS BED SORES
If your loved one has developed bedsores due to neglect or improper care, they have the right to receive proper medical care and treatment. You can file a complaint with the appropriate regulatory authorities, and if negligence or improper care caused harm, you may have the right to pursue legal action, such as a medical malpractice or negligence lawsuit, seeking compensation for damages.
FILING A LAWSUIT FOR BEDSORES IN TUCSON, AZ
To file a lawsuit for bedsores in Tucson, it is crucial to consult with a qualified nursing home abuse attorney. The process typically involves:
an initial consultation
investigation and gathering of evidence
notice of claim
negotiation and settlement attempts
filing the lawsuit
discovery and pretrial proceedings
potentially a trial
An attorney specializing in nursing home abuse or personal injury law can guide you through each step of the process.
REPRESENTATION FOR BEDSORE CASES IN TUCSON
Miller Kory Rowe offers representation for bedsores lawsuits in Tucson and can evaluate the specifics of your case. We can provide you with personalized advice and help you navigate the legal process.
Contact Miller Kory Rowe LLP today to find out more about how we can help you. Give us a call at (520) 277-7155 or reach out to us online to schedule a consultation.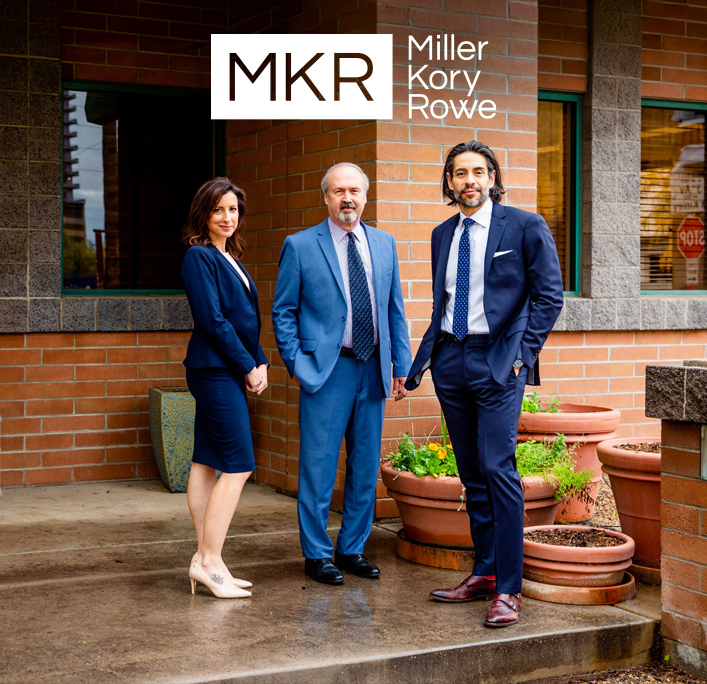 HANDLED WITH PROFESSIONALISM,
PRIDE AND RESPECT
"We researched a few law offices that would handled a delicate case in behalf of our beloved mother. From our initial meeting to the final, the experience was handled with professionalism, pride and respectful. We couldn't have gone to a better law firm to handle our case. I highly recommend this law firm for any of your love ones with a wrongful death. We can now bring closure to the care center in this case, however, closure in loosing my mother in such matter will take time for healing. Thanks to Jeff, Gab, Lorraine, Lupe, and the rest of the staff for caring."
YOU WON'T FIND A BETTER LAW FIRM!
"You won't find a better law firm! I have known Kory for more than 20 years and his dedication and work ethic are second to none."
DEDICATED ADVOCATE FOR HIS CLIENTS
"He is an excellent lawyer and a dedicated advocate for his clients. He has the highest degree of fairness and integrity towards clients, colleagues, and opposing counsel."
IT IS A VERY PRESTIGIOUS OFFICE
"It is a very prestigious office not only for the quality of the work but for the humility of each one of its attorneys, that their passion is to serve every one of their clients as a family member. The office in general does everything that is in their hands to assist in the best way possible every single individual that comes in through the doors of Miller Kory Rowe LLP."
HIGHLY RECOMMENDED FROM THEIR PEERS
"I was referred to Miller Kory Rowe LLP after the sudden loss of my Mom. It says a lot when you are refereed to a different Lawyer because they are so highly recommended from their peers. It was great comfort to have Gabe and his Team of spectacular people with support and going to extra mile for my Brother and I in such a stressful time in our lives. No matter what complications that happen with our case they did an amazing job. The case settled out of court in our favor which meant the World to me vs. the pain of a trial."
DO I HAVE A CASE?
TALK TO OUR ATTORNEYS NOW