PHOENIX MOTORCYCLE ACCIDENT LAWYERS
PHOENIX MOTORCYCLE ACCIDENT LAWYERS
LET OUR PHOENIX MOTORCYCLE ACCIDENT ATTORNEYS HELP YOU PICK UP THE PIECES FOLLOWING A CRASH
The expertise Miller Kory Rowe LLP has in handling accident cases allows us to take on serious personal injury cases caused by motorcycle accidents. Instead of taking every motorcycle accident case we are approached with, we are very selective regarding the cases we take. Our main focus is taking on motorcycle accident cases where the client has been severely injured. While these cases are a bit more complicated and time-consuming, we believe our skillset allows us to help our clients get the justice and compensation they deserve. Call our Phoenix motorcycle accident attorneys today if you have questions.
The motorcycle accident cases we take on are usually caused by things like distracted or drunk driving. We have also dealt with many motorcycle accident cases involving uninsured or underinsured motorists. Some of the most common injuries we see in these types of accidents are:
Traumatic brain and spinal injuries
Bone fractures
Severe abrasions
Soft tissue injuries
Burn injuries
The Phoenix motorcycle accident lawyers at Miller Kory Rowe LLP understand that the immediate concern you have when dealing with severe injuries like this is getting your medical bills and lost wages paid. Our team will work hard to get you the right amount of compensation to cover the trauma you have experienced. If you are dealing with injuries caused by a motorcycle accident, you need to call Miller Kory Rowe LLP immediately. During your consultation, we will be able to discuss what your rights are and give you a breakdown of how we can help you.
MOTORCYCLE ACCIDENT STATISTICS
If you are like most motorcycle accident victims, you are probably curious as to how common these types of accidents are. Here are some of the most surprising statistics regarding motorcycle accidents in this country.
Over 5,000 people die each year in motorcycle accidents.
Nearly 88,000 people have serious injuries as a result of motorcycle accidents on an annual basis.
People who ride a motorcycle are 27 times more like to perish in an accident.
Over 8 million motorcycles are on the roadways of America at any given time.
People over the age of 40 make up 54% of all motorcycle accident fatalities.
30% of all motorcycle related accidents are caused by drunk driving.
If you have extensive injuries from a motorcycle accident that was caused by the negligence of another driver, you need to contact Phoenix motorcycle accident attorneys at Miller Kory Rowe LLP now. Our experienced team of lawyers have helped many motorcycle accident victims get the monetary compensation they deserved.
MOST COMMON TYPES OF MOTORCYCLE ACCIDENTS
The team at Miller Kory Rowe LLP have dealt with a variety of different types of motorcycle accidents. Below are some of the most common types of motorcycle accidents.
Head-On Collisions – Over 78% of all motorcycle accidents involve head on collisions. Nearly 50% of the fatalities caused by motorcycle collisions happen as a result of some kind of contact with another vehicle. For the most part, this is the most common type of motorcycle accident and also causes the most life-threatening injuries.
Left-Hand Turn Collisions – Left-hand turn motorcycle accidents are also very common. When a car tries to make a left turn and does not see a motorcyclist, a lot of damage and bodily injury can occur. If a card darts through an intersection without looking, there is a good chance they will collide with a motorcycle and create a lot of damage.
Lane-Splitting Accidents – Some motorcyclist feel like they are invincible on the back of their machine. The fact is that when involved in an accident while on the back of a motorcycle, you will have very little protection. When motorcyclists try to go in between two cars while they are at a standstill, this is referred to as lane splitting. Being this close to two cars is bound to cause an accident and usually does.
Motorcycle Accidents Caused by Speeding – Over 25% of all motorcycle accidents are caused by speeding. When driving a motorcycle, you need to obey all posted speed limits and realize there is very little metal between you and the ground. If you are going at an accelerated speed and collide with a stationary object, you are going to do a lot of harm to your body.
WHY CONTACTING MILLER KORY ROWE LLP IS IMPORTANT FOLLOWING A MOTORCYCLE ACCIDENT
The injuries sustained in a motorcycle accident can put you on the sidelines for quite a while. By calling Miller Kory Rowe LLP, you can get the help needed to take on the negligent party that caused your wreck. Our Phoenix motorcycle accident lawyers know just how important getting compensation for your injuries is, which is why we will work feverishly to get you what you deserve.
Don't hesitate, contact Miller Kory Rowe LLP to schedule a consultation now. Call us at (602) 648-4045 to speak with a member of our staff.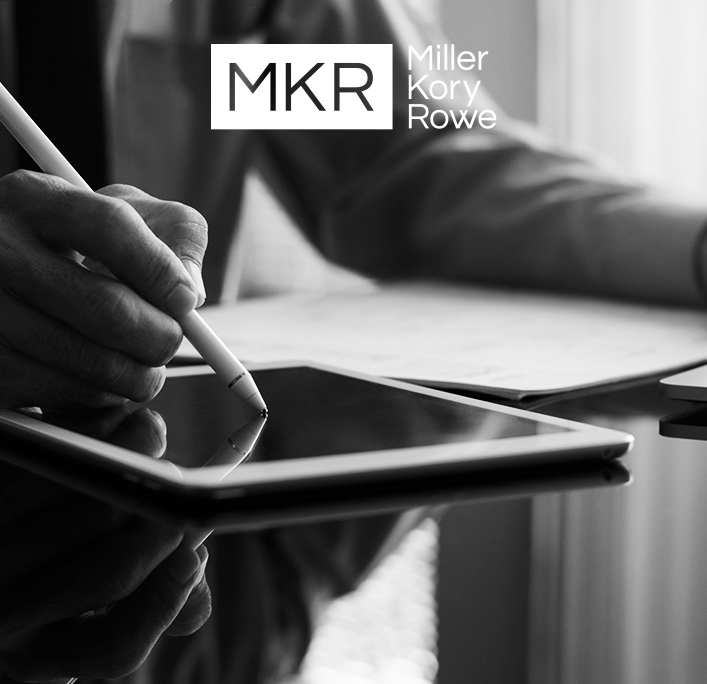 HANDLED WITH PROFESSIONALISM,
PRIDE AND RESPECT
"We researched a few law offices that would handled a delicate case in behalf of our beloved mother. From our initial meeting to the final, the experience was handled with professionalism, pride and respectful. We couldn't have gone to a better law firm to handle our case. I highly recommend this law firm for any of your love ones with a wrongful death. We can now bring closure to the care center in this case, however, closure in loosing my mother in such matter will take time for healing. Thanks to Jeff, Gab, Lorraine, Lupe, and the rest of the staff for caring."
YOU WON'T FIND A BETTER LAW FIRM!
"You won't find a better law firm! I have known Kory for more than 20 years and his dedication and work ethic are second to none."
DEDICATED ADVOCATE FOR HIS CLIENTS
"He is an excellent lawyer and a dedicated advocate for his clients. He has the highest degree of fairness and integrity towards clients, colleagues, and opposing counsel."
IT IS A VERY PRESTIGIOUS OFFICE
"It is a very prestigious office not only for the quality of the work but for the humility of each one of its attorneys, that their passion is to serve every one of their clients as a family member. The office in general does everything that is in their hands to assist in the best way possible every single individual that comes in through the doors of Miller Kory Rowe LLP."
HIGHLY RECOMMENDED FROM THEIR PEERS
"I was referred to Miller Kory Rowe LLP after the sudden loss of my Mom. It says a lot when you are refereed to a different Lawyer because they are so highly recommended from their peers. It was great comfort to have Gabe and his Team of spectacular people with support and going to extra mile for my Brother and I in such a stressful time in our lives. No matter what complications that happen with our case they did an amazing job. The case settled out of court in our favor which meant the World to me vs. the pain of a trial."
DO I HAVE A CASE?
TALK TO OUR ATTORNEYS NOW