TUCSON MEDICATION ERROR LAWYER
SEEKING JUSTICE FOR MEDICATION ERRORS IN NURSING HOMES IN TUCSON, AZ
Are you or your loved one a victim of a medication error in a nursing home in Tucson, AZ? The experienced legal team at Miller Kory Rowe is here to help. We understand the devastating consequences that medication errors can have on residents of nursing homes, and we are dedicated to holding negligent parties accountable. Our skilled Tucson medication error lawyers are ready to fight for your rights and seek the compensation you deserve.
UNDERSTANDING MEDICATION ERRORS IN NURSING HOMES
Nursing home residents rely on medical professionals to provide them with the proper medications and dosages to manage their health conditions. Unfortunately, medication errors in nursing homes are more common than many people realize.
These errors can occur due to various factors, including:
Wrong Medication: Residents may receive a medication that is not prescribed for them, which can lead to adverse reactions and complications.
Incorrect Dosage: Administering the wrong dosage of medication can have serious consequences, such as overdosing or underdosing, which can result in harm or even death.
Failure to Administer Medication: Neglecting to provide residents with their prescribed medications as scheduled can lead to worsening health conditions or preventable complications.
Improper Medication Administration: Medications must be administered correctly, following proper procedures and guidelines. Errors in administration, such as incorrect timing or improper methods, can have detrimental effects on residents.
Lack of Monitoring: Monitoring residents for potential side effects or adverse reactions to medication is crucial. Failure to do so can result in delayed interventions and further harm.
TAKING LEGAL ACTION FOR MEDICATION ERRORS
If you suspect that you or your loved one has suffered harm due to a medication error in a nursing home, it is important to take prompt legal action. Our Tucson medication error lawyers have a deep understanding of Arizona's laws and regulations regarding nursing homes and medication administration. We will thoroughly investigate your case, gathering evidence and consulting with medical experts to build a strong claim on your behalf.
At Miller Kory Rowe, we prioritize the well-being of our clients and their families. When you choose us as your legal representation, you can expect:
Compassionate Guidance: We understand the emotional and physical toll that medication errors can have on victims and their families. Our team will provide compassionate guidance and support throughout the legal process.
Thorough Investigation: We will conduct a detailed investigation into the circumstances surrounding the medication error, gathering all relevant evidence to build a compelling case.
Expert Consultations: We work closely with medical experts who can provide professional opinions and testify on your behalf, helping establish liability for the medication error.
Strong Negotiation and Litigation Skills: Our skilled attorneys are experienced negotiators and litigators. We will vigorously pursue a fair settlement on your behalf, but we are prepared to go to trial if necessary to secure the compensation you deserve.
Comprehensive Compensation: We will seek compensation for all damages you have suffered, including medical expenses, pain and suffering, emotional distress, and any other losses resulting from the medication error.
If you or your loved one has been a victim of a medication error in a Tucson nursing home, do not hesitate to seek legal help. Contact Miller Kory Rowe today for a free and confidential consultation with an experienced Tucson medication error lawyer.
TUCSON MEDICATION ERROR LAWYER
Contact Miller Kory Rowe LLP today to find out more about how we can help you. Give us a call at (520) 277-7155 or reach out to us online to schedule a consultation.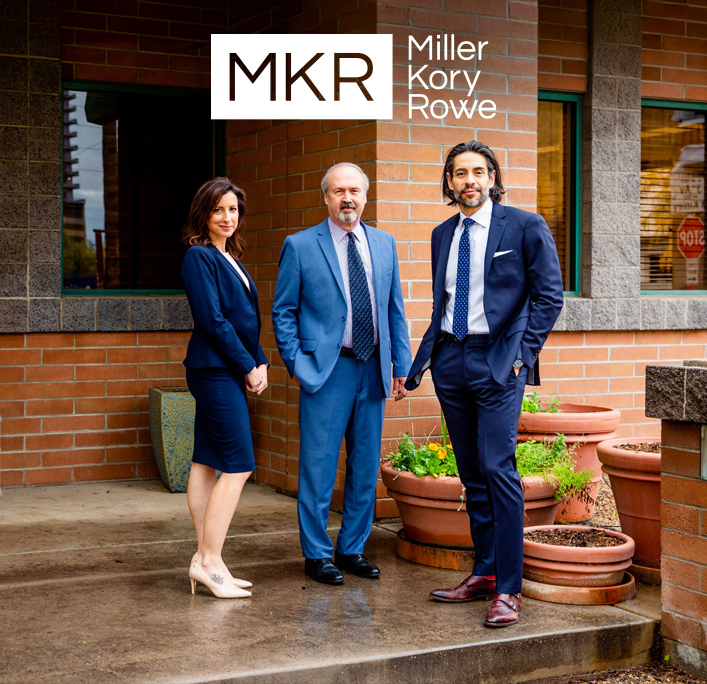 HANDLED WITH PROFESSIONALISM,
PRIDE AND RESPECT
"We researched a few law offices that would handled a delicate case in behalf of our beloved mother. From our initial meeting to the final, the experience was handled with professionalism, pride and respectful. We couldn't have gone to a better law firm to handle our case. I highly recommend this law firm for any of your love ones with a wrongful death. We can now bring closure to the care center in this case, however, closure in loosing my mother in such matter will take time for healing. Thanks to Jeff, Gab, Lorraine, Lupe, and the rest of the staff for caring."
YOU WON'T FIND A BETTER LAW FIRM!
"You won't find a better law firm! I have known Kory for more than 20 years and his dedication and work ethic are second to none."
DEDICATED ADVOCATE FOR HIS CLIENTS
"He is an excellent lawyer and a dedicated advocate for his clients. He has the highest degree of fairness and integrity towards clients, colleagues, and opposing counsel."
IT IS A VERY PRESTIGIOUS OFFICE
"It is a very prestigious office not only for the quality of the work but for the humility of each one of its attorneys, that their passion is to serve every one of their clients as a family member. The office in general does everything that is in their hands to assist in the best way possible every single individual that comes in through the doors of Miller Kory Rowe LLP."
HIGHLY RECOMMENDED FROM THEIR PEERS
"I was referred to Miller Kory Rowe LLP after the sudden loss of my Mom. It says a lot when you are refereed to a different Lawyer because they are so highly recommended from their peers. It was great comfort to have Gabe and his Team of spectacular people with support and going to extra mile for my Brother and I in such a stressful time in our lives. No matter what complications that happen with our case they did an amazing job. The case settled out of court in our favor which meant the World to me vs. the pain of a trial."
DO I HAVE A CASE?
TALK TO OUR ATTORNEYS NOW