PHOENIX LEGAL MALPRACTICE ATTORNEYS
PHOENIX LEGAL MALPRACTICE ATTORNEYS
EXPERIENCED PROFESSIONALS HOLDING NEGLIGENT COUNSEL ACCOUNTABLE
When Miller Kory Rowe LLP accepts a new client, we focus solely on meeting their needs. Our firm only accepts certain types of cases in order to allow us to focus on the clients we have and get them the justice and compensation they deserve. There are instances when people hire a lawyer and do not get the level of service they signed up for. Understanding the difference between incompetence and negligence is essential when trying to decide whether or not legal malpractice has taken place.
Unfortunately, legal malpractice takes place far more often than most people realize. 
Proving legal malpractice requires our lawyers to show one of the following:
Duty – Showing that the attorney in question owed you a duty and failed to deliver.
Breach – Proving that the duty you were supposed to be provided was breached. This basically means we have to show your lawyer acted in a blatantly negligent manner.
Causation – We have to show the judge and jury that the negligent actions of the attorney caused you financial distress. Once we prove this, we will show the negligence of your attorney caused you to lose money and will ask for damage compensation as a result.
Showing that your attorney made errors is one thing, but providing legal malpractice is on another level. Our team of lawyers has handled many cases involving legal malpractice and will be able to assist you in recouping the damages caused by the negligent party.
THE STATISTICS ON LEGAL MALPRACTICE
In order to understand more about legal malpractice and just how common it is, take a look at the following statistics:
Nearly 19% of the legal malpractice lawsuits filed are against personal injury attorneys.
Preparation and filing errors are among the most common reasons for these lawsuits.
20% of the legal malpractice cases are due to mistakes during the prehearing process.
3600 legal malpractice cases last year were filed due to the lawyer failing to file vital paperwork.
2200 of the legal malpractice cases filed last year were due to conflicts of interest.
3.5% of all legal malpractice lawsuits are for malicious prosecution.
Do you feel as if you have been a victim of legal malpractice? The team at Miller Kory Rowe LLP is here to help. By scheduling a consultation with our legal team, you can find out what your rights are and how we can help you.
SITUATIONS THAT MAY REQUIRE YOU TO FILE A LEGAL MALPRACTICE LAWSUIT
For most people, knowing what constitutes legal malpractice is a bit of a challenge. Here are some of the situations that can be considered legal malpractice.
Your Lawyer Misused the Retainer Money You Paid Them – If you suspect your lawyer has in some way misused the retainer money you have supplied them with, then you need to contact our team today. While filing a complaint with the Arizona State Bar will be helpful, you will need the team at Miller Kory Rowe LLP to help you file a lawsuit to recoup the money you have lost.
The Attorney Settles Your Case Without Informing or Consulting You – Many personal injury cases will settle out of court. Getting the right amount of compensation in a settlement will require the help of an experienced lawyer. If the lawyer you have hired settles your case without informing or consulting you, suing for legal malpractice is a must. In order for legal malpractice to be settled in a case like this, we will have to prove the settlement your lawyer got was for far less than you deserved.
Your Case Is Thrown Out of Court Due to Your Lawyer's Negligence – For a lawsuit to be successful, a lawyer will have to fill out the appropriate paperwork. When a case is thrown out of court due to a lawyer's negligence, you will need to take action. Our team of attorneys can help you get justice when these types of situations arise. Waiting too long to take action in a legal malpractice case may lead to the statute of limitations running out.
When you feel as if you have been wronged by another attorney, the team at Miller Kory Rowe LLP will fight for you. If you are unsure whether or not your particular case is legal malpractice, we can help you figure things out. Our legal malpractice lawyers are quite familiar with the laws and statutes regarding this issue. We will use our extensive knowledge of these laws to get you the justice you deserve.
At Miller Kory Rowe LLP, you will be able to get the help needed to get through this difficult experience. Call us (602) 648-4045 to schedule a consultation to find out what type of assistance we can provide you.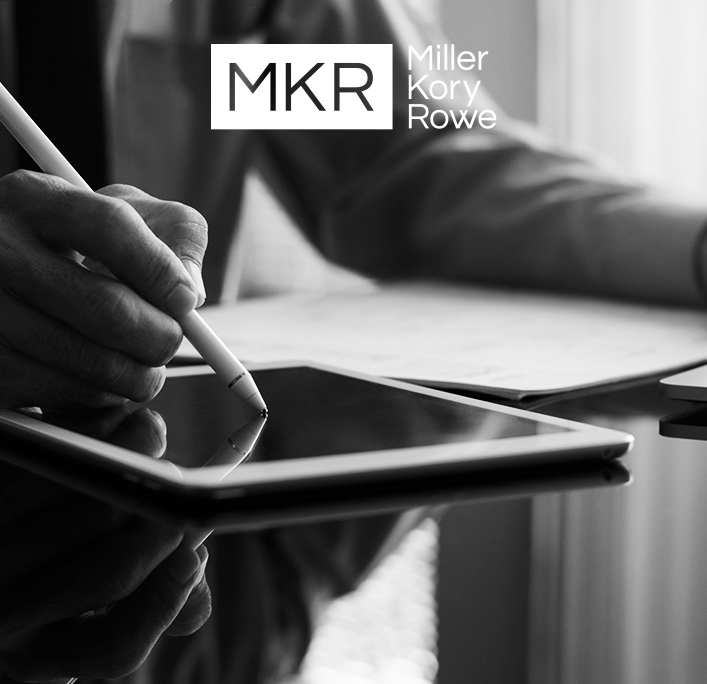 HANDLED WITH PROFESSIONALISM,
PRIDE AND RESPECT
"We researched a few law offices that would handled a delicate case in behalf of our beloved mother. From our initial meeting to the final, the experience was handled with professionalism, pride and respectful. We couldn't have gone to a better law firm to handle our case. I highly recommend this law firm for any of your love ones with a wrongful death. We can now bring closure to the care center in this case, however, closure in loosing my mother in such matter will take time for healing. Thanks to Jeff, Gab, Lorraine, Lupe, and the rest of the staff for caring."
YOU WON'T FIND A BETTER LAW FIRM!
"You won't find a better law firm! I have known Kory for more than 20 years and his dedication and work ethic are second to none."
DEDICATED ADVOCATE FOR HIS CLIENTS
"He is an excellent lawyer and a dedicated advocate for his clients. He has the highest degree of fairness and integrity towards clients, colleagues, and opposing counsel."
IT IS A VERY PRESTIGIOUS OFFICE
"It is a very prestigious office not only for the quality of the work but for the humility of each one of its attorneys, that their passion is to serve every one of their clients as a family member. The office in general does everything that is in their hands to assist in the best way possible every single individual that comes in through the doors of Miller Kory Rowe LLP."
HIGHLY RECOMMENDED FROM THEIR PEERS
"I was referred to Miller Kory Rowe LLP after the sudden loss of my Mom. It says a lot when you are refereed to a different Lawyer because they are so highly recommended from their peers. It was great comfort to have Gabe and his Team of spectacular people with support and going to extra mile for my Brother and I in such a stressful time in our lives. No matter what complications that happen with our case they did an amazing job. The case settled out of court in our favor which meant the World to me vs. the pain of a trial."
DO I HAVE A CASE?
TALK TO OUR ATTORNEYS NOW